Mackenzie Douthit

Location:

Miami, Oklahoma

Relationships:

Josh McKee (husband)

Family:

Angie Douthit (mother)
Gannon McKee (son)
Jaxie McKee (daughter)
Broncs McKee (son)

Status:

Living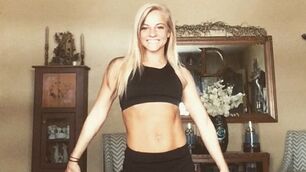 Mackenzie Douthit (now Mackenzie McKee) is a 16-year-old high school cheerleader who got pregnant by her boyfriend, Josh McKee.
Mackenzie's episode focuses on the hard decisions that she and Josh have to make as parents, with Mackenzie having to give up cheerleading and Josh being pressured to give up bull riding.
On September 12, 2011, Mackenzie gives birth to her child, son Gannon Dewayne McKee via c-section due to her diabetes. On August 17, 2013, she and Josh married.
On February 7, 2014, Mackenzie's second child, daughter Jaxie Taylor McKee was born in an emergency c-section.
On August 15, 2016, she welcomed her third child, son Broncs Weston, who was also born via emergency c-section.
In early 2017, the couple separated due to rumors of infidelity, but they have since reconciled.
In 2018, it was revealed that Mackenzie's mother, Angie has been diagnosed with brain cancer.