Jordan Cashmyer

Location:

Baltimore, Maryland

Relationships:

Derek Taylor (ex-boyfriend)

Family:

Genevieve Taylor (daughter; with Derek)

Status:

Living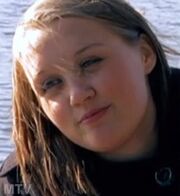 Jordan Cashmyer is a teenage girl from Baltimore, Maryland who becomes pregnant by her boyfriend, Derek Taylor. She was kicked out by her parents after she became pregnant by Derek and she refused to stop seeing him.
Prior to the birth, the episode focused on Jordan's and Derek's challenges of effectively being homeless because Derek is uninterested in getting a job and they have no local relatives to take them in.
On March 7, 2014, Jordan gave birth to her daughter Genevieve "Evie" Shae Taylor. Following the baby's birth, the episode focuses on Derek's continued lack of interest in working which leads to Jordan's and Derek's ongoing financial struggles & continued homelessness.
Following filming of the episode, Jordan and Derek separated. Initially, Jordan's father & stepmother shared custody of Genevieve with Derek. However, the couple moved to Derek's mother's house & Jordan signed over temporary custody to Derek's mother.
In 2014, it was revealed by Derek that Jordan had been working at a strip club. Later that year, she was hospitalized for mental health issues and a possible suicide attempt. She was also in rehab on several occasions.
In 2017, it was reported that Jordan had been working as a prostitute after her images appeared on an escort website. During that same year, she was arrested for possession of cocaine and heroin.