Joey Maes

Location:

Relationships:

Katie Yeager (ex-fiancee)
Marissa Cintron (wife)

Family:

Molli Maes (daughter; with Katie)
Khloe (daughter; with Marissa)
Jax (son; with Marissa)

Status:

Living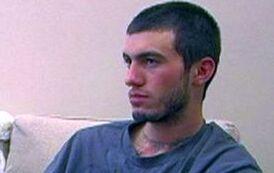 Joey Maes is the ex-boyfriend of Katie Yeager and the father of Molli Maes.
Shortly after Molli was born, he & Katie were able to move into their own place. Joey got a full-time job working at the coal mine while Katie took online classes at her local community college as a full-time student as they raise their daughter. They got engaged after Molli's birth, but they ended their relationship in 2013.
Joey has a son named Graedyn from a previous relationship with a woman named Karrie, but he is not involved in the child's life.
On May 10, 2015, he welcomed his second child, daughter Khloe Madysin Maes with his girlfriend Marissa Cintron. In August of 2016, He and Marisa welcomed their second child, son Jax.
In 2016, a warrant was issued for Joey in Wyoming over $8000 of unpaid child support owed to Katie.
According to social media posts, Joey and Marissa got married in March of 2017.