Farrah Abraham

Farrah and Sophia

Location:

Council Bluffs, Iowa

Relationships:

Derek Underwood (2008)

Family:

Sophia Abraham (Daughter) with Derek

Status:

Living
(DUE TO HIGH VANDALISM OVER THE RELEASE OF FARRAH'S SEX TAPE, COMMENTS HAVE BEEN DISABLED AND HER PAGE MADE PRIVATE, WE RESPECT EVERYONE HAS DIFFERENT VIEWS ON THIS, BUT WE DO NOT TOLERATE VANDALISM ON THIS WIKI - THANKS)
16 and Pregnant:
Farrah Abraham is a cheerleader from Council Bluffs, Iowa who decides not to tell her ex-boyfriend about the pregnancy after he sends her threatening text messages. After the episode premiered, it was revealed he died in a car accident before the baby was born. On February 23, 2009, Abraham gives birth to Sophia Laurent Abraham. After Sophia's birth, the episode focuses on Abraham's struggles due to being housebound without a car and her difficult relationship with her mother. Abraham would later be one of the stars of Teen Mom. Her on-and-off boyfriend Derek Underwood died December 28, 2009. 
Teen Mom:
for more on Farrah during Teen Mom check out our Teen Mom wiki (teenmom.wikia.com)
An aspiring model, Farrah Abraham is the mother of Sophia Laurent Abraham, whose father, Derek Underwood, was killed in a car accident on December 28, 2008, two months before her birth. In January 2010, Farrah's mother, Debra Danielson, was charged with assault in an Iowa court for hitting her. As a result of the fight with her mother, Farrah and Sophia moved out of her mother's house. She started seeing a therapist to discuss the rocky relationship with her family, as well as dealing with her emotions regarding Underwood and his death. Farrah eventually proved to Derek's family through a paternity test that Derek was in fact Sophia's father and then was faced with a lawsuit filed by Derek's mother for grandparents' visitation rights, despite no previous contact with Sophia. 
Life after Teen Mom: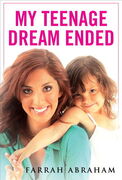 In 2012, Farrah released a few recorded singles hoping to make it in the music industry, as well as her singles she released her autobiography, My Teenage Dream Ended.  
In March 2013 Farrah was arrested with a DUI, she was given a Ignition Interlock Device (Alcohol Breathalyzer) which she must use for 6 months.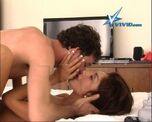 In May 2013, Vivid Entertainment released a sex tape featuring Abraham having sex with porn star James Deen. Abraham sold the footage, which was intended to be marketed as a "leaked" celebrity sex tape, to Vivid Entertainment for $1.5 million. Abraham defended her decision to make and sell her porn video, claiming that she wanted to "celebrate her awesome body".